Description
Itinerary
Included
Reviews
Description
Level of the package: Silver Tour Package
Duration: 10 days & 9 nights
Location: Rwanda & Uganda
Price: 2,850USD per Person
Based on the Hotel &Lodges Mentioned
Minimum Number: 4PX (2 Couples)
Tour highlights
Pick up and Drop off at the airport
Transfer to and from Uganda
Game drive in A.N.P
Boating in Ihema Lake
Canoeing in Mukungwa River
Gorilla Trekking in Uganda
Iby'Iwacu Cultural Village/Gorilla guardian
Nature walk
Hiking
Birds Watching
Visiting Tea Plantation
Visiting The islands in Kivu Lake
Canopy Walkway Experience
Ethnographic Museum
Kings Palace Museum
Kabare City Tour
Gorilla Trekking in Uganda
Kigali City Tour(Sightseeing, visiting Kandt House, Kigali Genocide Memorial Center, Campaign Against Genocide )
Itinerary
Day 1: Pick up from Kigali airport and Transfer to the hotel
The Arrival of your flight at Kigali International Airport. Meet and Greet. You will be warmly welcomed by our representative outside the customs and immigration hall, then Transfer to the hotel for Check-in then dinner, and overnight.
Accommodation: T2000 Hotel or Similar
Day 2: Transfer to Akagera National Park for Short Game Drive and Boat ride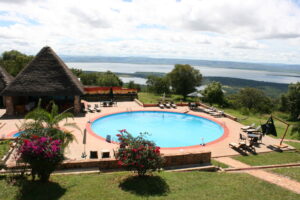 Pick up from Kigali and Transfer to Akagera national park and then Drive to the Hotel/Lodge for check-in, lunch, and Relaxing  then embark on Ihema lake for Boating where You might spot various water animals like hippos, crocodiles, and different species of water birds then after embarking to the hotel for Dinner & Overnight
 Accommodation: Akagera Game Lodge
Day 3: Full Game drive and Transfer to Musanze
After an early breakfast, Meet and greet your guide at the lodge, and drive through Akagera National Park enjoying Rwanda's phenomenal landscapes and wildlife. During this game drive, you may meet the big five, different mammals, Birdlife, and reptiles. This game drive from the south up to the northern exit will take almost 7 hours, which means that you will be at Musanze around 8 pm. then Dinner & Overnight
Accommodation: Fatima Hotel
Day 4: Ibyiwacu Cultural Village, Canoeing in Mukungwa River and Transfer to Karongi
Have yourself an early tasty breakfast will go for a Canoeing experience in Mukungwa River and then drive to iby'iwacu Cultural Village (Gorilla Guardians) in Musanze District based in the community bordering Volcanoes National Park. In the village, you will have a wonderful, interactive experience, learning all about Rwandan traditions, cultural songs, and dances. You will be given a chance to participate in local dances and drums, all while wearing a traditional local "Umushanana" dress; shooting arrows, attending a traditional healer's medicine, and then Transferring to Karongi via Gishwati Mukura National park for Dinner and overnight.
 Accommodation: Moriah Hill Resort
Day 5: Visiting the Islands in Kivu Lake
After breakfast in the morning will take a boat to visit Different islands in Kivu like King and Queen Islands, and monkey islands, and hike to napoleon island then back to the hotel for lunch and relaxation then after Dinner and overnight.
Accommodation: Moriah Hill Resort or Similar
Day 6: Transfer to Nyungwe national park for Canopy walkway
After breakfast, our professional Driver guide will pick you up and drive you to Nyungwe national park Via Nyamasheke on your way you will also enjoy rolling hills, the View of Idjwi Island Located In DRC, and different plantations Arriving at Uwinka park Reception will be Given the briefing about N.N.P and then embark for canopy walkways experience after will Dive back to the Lodge for lunch then relaxing at the Hotel then Dinner and overnight.
Accommodation: Nyungwe Nziza Eco-Lodge
Day 7: visiting ethnographic, King palace Museums the transfer To Kigali
In the morning after Breakfast, the Driver Guide will pick you up from the Hotel and then Head to Huye at the ethnographic museum to learn much about the history of Rwanda and the Nyanza at Kings palace museum to know more about Rwandans Cultural then Straight to Kigali For Dinner and Overnight.
Accommodation: T2000 Hotel or Similar
Day 8: Transfer to Bwindi impenetrable national park
In the morning after breakfast,  will Drive to Gatuna Border, after crossing the border will meet the driver guide on Uganda Side then Drive to Kabare City for Hotel Check-in and be ready for the Kabare City tour where will have a chance to experience the Uganda local Food and other Stuff and then back to the hotel for Dinner and overnight.
Accommodation: hawk's eye lodge
Day 9: Gorilla trekking and Transfer to Kigali
Early in the morning After breakfast will drive to Bwindi impenetrable National park, Arriving at the park Reception will be given the briefing about the group to be
Visited then Drive to the starting Point After trekking (Experiences) will drive back to Kigali but on the way will have a stopover for lunch and then cross the border to Kigali
Accommodation: T2000 Hotel or Similar
Day 10: Kigali city tour &Transfer to The Airport for Departure
Early in the morning at 10 am after breakfast will go for a Kigali city tour where will visit different places in Kigali including Kigali memorial site and buy souvenirs, then transfer to the airport for Departure.
Included
Transportation (4*4 )

Professional/experienced English speaking driver guide

Accommodations +Breakfast(2 double/Twin rooms )

Entry fees to Akagera National Park

Boating fees in Ihema lake

Canoeing fees in Mukungwa River

Entry fees to Gorilla Guardians

Hiking Fees

Water in The Car

Canopy walkways Fees

Visiting The Islands In kivu lake

Boating fees in Kivu lake

Entry fees to ethnographic Museum

Entry fees to Kings Palace Museum

4Gorilla permits

Nature Walk Fees

Hiking Fees

Kigali City tour

Refreshments

Local Taxes

Park Levy

Guiding & Company Fees
International airline tickets,

EAC visa fees,

Optional extras while in the Trip,,

Covid -19 Test Fees

Tips and gratuities,

Travel insurance

Meals & Drinks
Reviews